CLOSED FOR RENOVATION
Address:
Kazimierza Przerwy-Tetmajera 15,
34-500 Zakopane

+48 18 201 22 63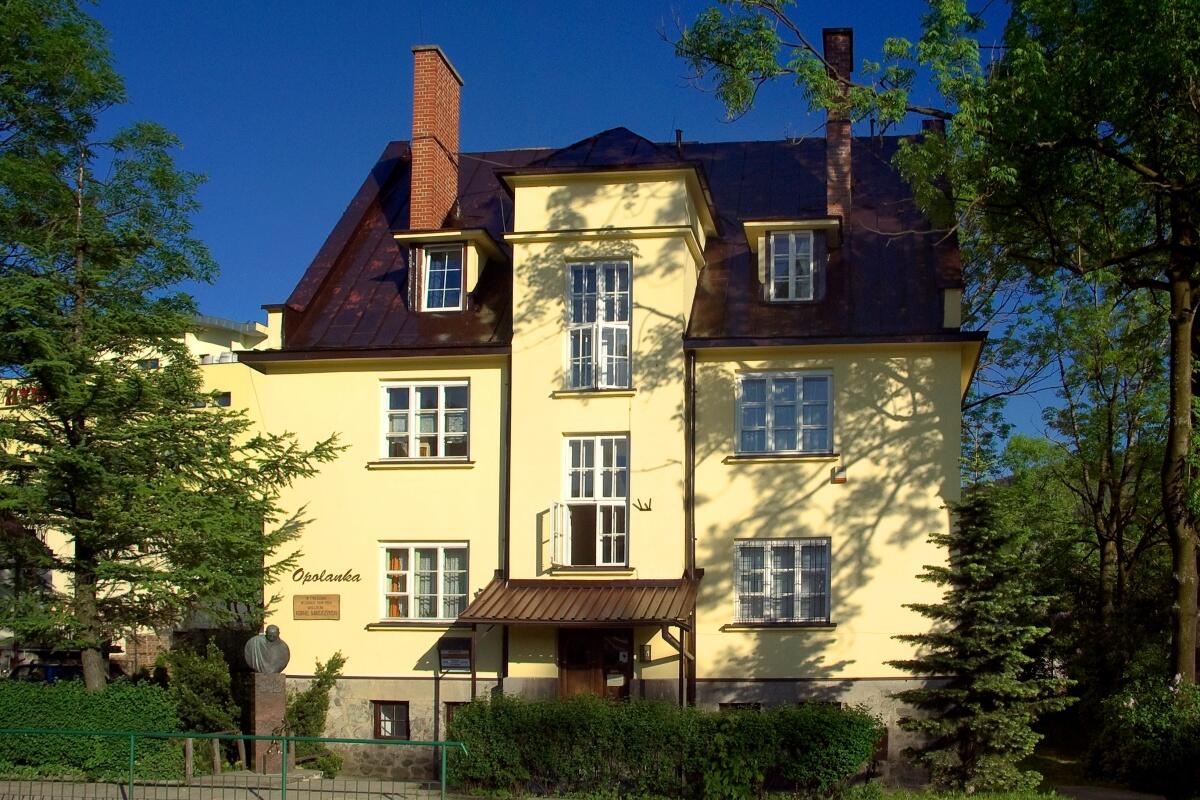 (branch of the Tatra Museum)
The Kornel Makuszyński Museum is Zakopane's second biographic-literary museum after the Jan Kasprowicz Museum in the Harenda. It is based in the Opolanka house where the Makuszyńskis had stayed during their almost annual summer and winter visits to Zakopane between the two World Wars, and where they settled after World War II. Many precious objects in the couple's possession and their large library perished in Warsaw during World War II. The Makuszyński Museum houses merely a fraction of what the writer, an art collector on friendly terms with many outstanding artists, had assembled. The Museum was set up in 1966 following a donation made by Janina Gluzińska-Makuszyńska (1896–1972) the writer's widow.
Kornel Makuszyński (1884–1953), born in Stryj [now Stryy, Ukraine], writer, journalist and drama critic, one of the most popular authors of children's books, spent his youth in Lwów [now L'viv, Ukraine] where he went to grammar school and studied at the Philosophical Department of the Jan Kazimierz University. Before World War I, he worked as dramaturg at the Municipal Theatre in Lwów. During the war, Makuszyński and his first wife Emilia née Bażeńska were deported to Russia. Released on his friends' pledge, he returned home, worked for several months at the Municipal Theatre in Lwów, subsequently leaving the city for good. Till 1918, he lived in Kiev, was dramaturg at Stanisława Wysocka's Polish Theatre and acted as President of the local Society of Writers and Journalists. While in Kiev, he wrote his first novels.
A new period started in the writer's life, after Poland regained independence and Makuszyński settled in Warsaw. In the 1930s he wrote his most popular books for children and young people. These were Przygody Koziołka Matołka [Silly Billy Goat's Adventures]; O dwóch takich co ukradli księżyc [The Moon-stealing Two]; Przyjaciel Wesołego Diabła [Joyful Devil's Friend]; Skrzydlaty chłopiec [Winged Boy]; Wielka brama [Great Gate]; Wyprawa pod psem [Dog-omened Expedition]; Szatan z siódmej klasy [Seventh-grade Satan]; List z tamtego świata [Otherworldly Letter]. Active as a novelist, he was also a prolific journalist. His comments and reviews appeared in almost all of the popular periodicals, making him one of the best-known figures in Warsaw's artistic and social life. From 1934, Zakopane acted as second home to Makuszyński and his second wife Janina née Gluzińska.
As in Warsaw, Kornel Makuszyński participated actively in Zakopane's intense artistic and social life and sports events. The Karpowicz café in Zakopane was in those times a meeting place for celebrities, commemorated on these famous occasions by Kazimierz Sichulski in his excellent caricatures. The meetings provided material for many press articles and books on Zakopane issues. Though he was not a sportsman and mountain climber himself, Makuszyński sat on the organizing committees of, and acted as patron towards, numerous skiing and horse-riding races and automobile rallies. He also acted as patron towards the Wisła Club and it was on his initiative that the children of the poorest families were given skis so that they could practise skiing. In honour of his merits as a friend of children, the Kornel Makuszyński memorial skiing contests are organized for children today. Zakopane made its first appearance in Makuszyński's work as early as the 1920s; his lighter comments appeared in the Warsaw and Zakopane press. Though Kornel Makuszyński liked Zakopane from the very beginning, he did not spare the town pungent and caustic criticism. As time went on, his attitude grew more lenient, and Zakopane reciprocated his feelings, granting him in 1931 the title of an Honorary Citizen.
The outbreak of World War II put an end to the writer's material and artistic stability. As mentioned above, the Makuszyńskis' flat in Warsaw, full of works of art, was seriously damaged during an air raid in 1939 and during the Warsaw Uprising in 1944. After their stay in the Pruszków camp [following the fall of the uprising], the Makuszyńskis arrived in Zakopane and settled on the first floor of the Opolanka. Makuszyński did not feel well in the new socio-political realities (only two of his new books were published in the 1940s), but he took an active part in Zakopane's cultural life, devoting much of his time and heart to meetings with children. He died on 31 July 1953 and was buried in the Old Cemetery in Zakopane. There are always flowers and school badges on his grave, a token of memory by generations and generations of faithful young readers.
The museum in the Opolanka house occupies four rooms of the Makuszyńskis' former flat. The collection includes successive editions of Makuszyński's works, in addition to historical-literary studies on his oeuvre and diaries. Besides the writer's own manuscripts, his archives also embrace an ample set of letters from outstanding writers, pain­ters, musicians, theatre people, scholars and politicians, as well as numerous letters from his readers. To complement the archives, there are also press cuttings and photographs.
The art collection embraces works by famous Polish artists (paintings by Julian Fałat, Władysław Jarocki, Fryderyk Pautsch, Kazimierz Sichulski, Władysław Skoczylas, Stanisław Wyspiański et al., and sculptures by Konstanty Laszczka, Henryk Kuna et al.). There are also designs for illustrations to Makuszyński's books, antique furniture mostly in the Biedermeier style, miniatures, antique art weavings (eastern rug, Persian prayer carpet and Japanese screen), and numerous utility antiques: lamps, clocks, Polish and French glass articles, and Chinese, English, Saxon and Meissen porcelain.
Historian of literature Jacek Kolbuszewski aptly describes the mood of the museum interiors: '… there was something essentially joyful in Makuszyński's attitude towards the world and people, those in his closest surroundings and others. Kornel Makuszyński looks very serious in Schabenbeck's photograph in the corridor of his museum. Yet there are cheerful sparkles in his eyes, and there is a smile in the corner of his mouth. The smile has not been catalogued, but it is part of the Kornel Makuszyński Archives and the Museum's, too. Come and see if you do not believe…'