Opening hours:
TUE- SUN 10.00 AM – 6.00 PM
MON - closed
Address:
Jagiellońska 18b,
34-500 Zakopane

+48 18 206 68 71
hasior @ muzeumtatrzanskie.pl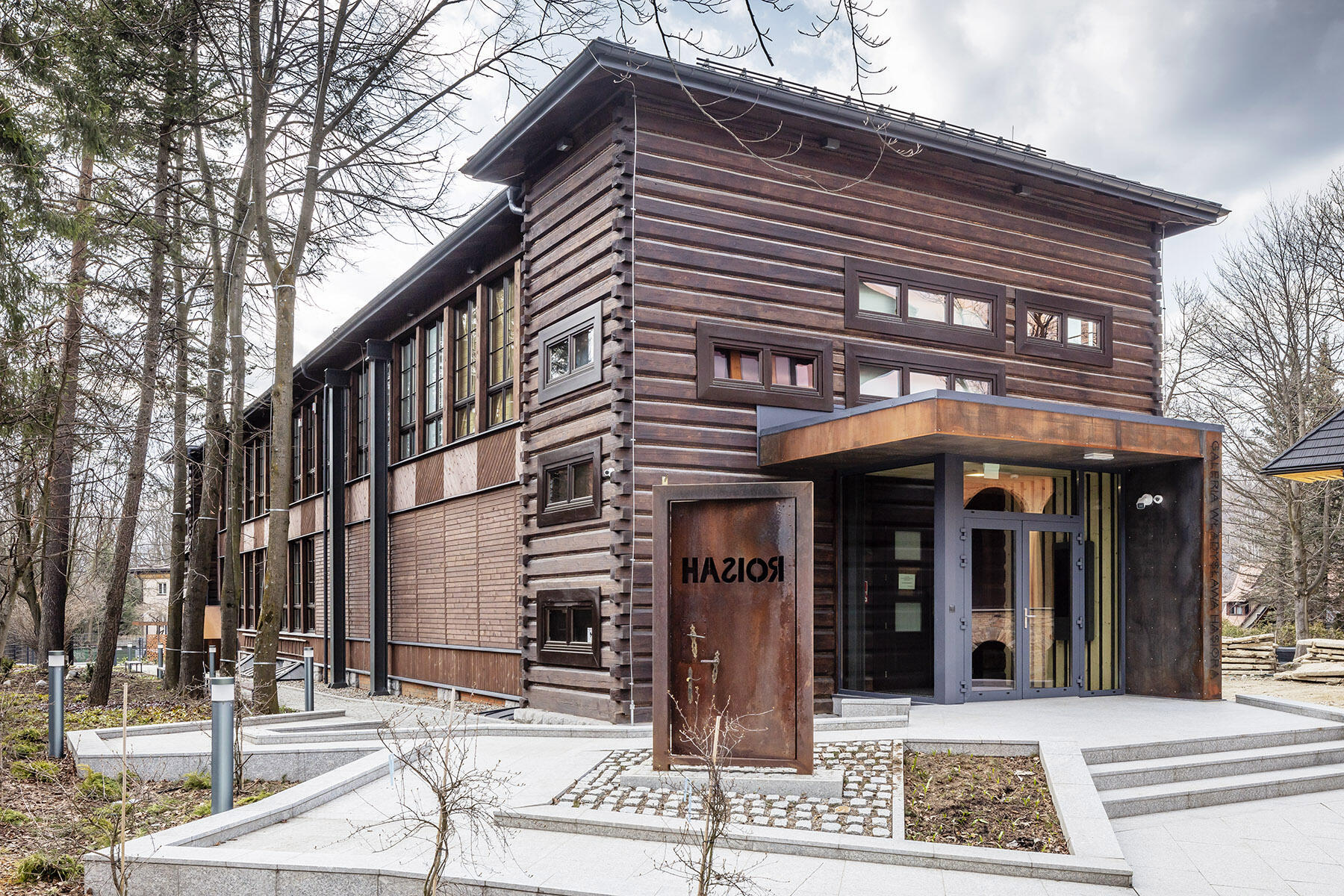 fot. Daniel Rumiancew
(branch of the Tatra Museum)
Originally run by the artist, it is a gallery of his works. Born in Nowy Sącz in 1928, Władysław Hasior was first educated in Zakopane under the supervision of the outstanding teacher and artist Antoni Kenar at the State School of Art Techniques, which he completed in 1952. He studied at the Academy of Fine Arts in Warsaw with Professor Marian Wnuk, graduating in 1958, and in Ossip Zadkine's studio in Paris in 1959. Even before his graduation from the Academy, he started teaching at the State School of Art Techniques in Zakopane, with which he was to remain connected for many years.
From 1959, he took part in all the regional shows of works by Zakopane artists and in the initiatives of artists associated with the Antoni Kenar State School of Art Techniques. In the 1960s and 1970s, Władysław Hasior presented his works at numerous exhibitions at home and abroad. He travelled a great deal, visiting Sweden, Norway, Denmark, Belgium, the Netherlands, France, Italy, Austria, the Federal Republic of Germany, Uruguay, and Argentina. In Zakopane, he was for many years engaged in the organization of artistic events including the February Print Salons, the March Painting Salons, and Surveys of Art Films. His credits also include original monuments and open-air sculptures. Fire, water and sounds feature prominently in these works. In 1972 he constructed a sculpture entitled The Scandinavian Chariot in Sweden. He also collaborated with theatre as a stage designer.
Władysław Hasior's works are in Polish museum collections in Cracow, Warsaw, Łódź, Poznań, Szczecin, Wrocław, Bydgoszcz, Lublin, Nowy Sącz and Zakopane; and abroad in museums of Helsinki, Paris, Stockholm, Oslo, São Paulo, Milan, Edinburgh, Bochum, Duisburg and Amsterdam, as well as a large number of private collections.
In December 1984 his works were transferred from the artist's small studio to the Gallery in Jagiellońska Street. The Gallery is based in the former resting terrace of the Warszawianka sanatorium. Erected in 1935 to Tadeusz Litawiński's design, the wooden resting terrace originally had two levels glazed from the south. It has been adapted for the gallery needs, becoming a complex of interiors on several layers, intended as exhibition rooms, often a concert hall, as well the artist's home and studio. The Gallery was inaugurated in February 1985.
Displayed in the Gallery are Władysław Hasior's famous banners, spatial compositions and sculptures made of various materials as well as objects of daily use, often bordering on junk, which have in the artist's hands acquired a new meaning. Bearing metaphorical, witty, slightly pervert titles, they make one ponder on the present-day world and art.
Art historian Marek Rostworowski wrote about the artist: 'Hasior is related to late-mediaeval artist-poets who evoked a beautiful awe-inspiring world combining reality with metaphor and the otherworldly, one intended to charm the reality-harassed individual longing to step beyond it… [That was at] the time of Hieronymus Bosch, Bruegel, witches and Spaniards enamoured of martyrdom… In him [Hasior], nothing is what it is, but what it looks to the unbridled imagination. Another reason why it is a fairy tale is that in Hasior's sentences the words mean something different from what each of them means separately.'
Mariusz Hermansdorfer wrote in a catalogue of his exhibition: 'Władysław Hasior's works have a universal quality. They are also very Polish. Connected with the region of Podhale, its culture, faith, history and nature, the local people's efforts and rhythm of life, the tradition and the present of the area, they have a universal meaning. It is not an additional element, one that occurs besides the local values. Quite the contrary, whatever Hasior does, has universal traits.' It seems that Mariusz Hermansdorfer's words are the synthesis of Władysław Hasior's oeuvre. Władysław Hasior died in Zakopane on 14 July 1999. In the artist's lifetime the gallery was a venue for meetings with art, which he conducted. Enjoying a standing invitation to the section allotted to temporary exhibitions, contemporary artists, painters, sculptors and photographers regularly presented their works there.